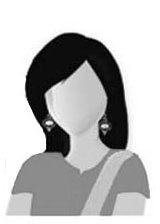 32 Yrs

5ft 2in - 157cm

Never Married

Sibling

Hindu

Mudaliar

Tamil

Wheatish

Average

Teacher

Bachelors in Arts

India, Tamil Nadu

Cuddalore
Vivaah.com Matrimonial Services are - 100%, Completely & Totally FREE!!

Contact Members -
Free!!

View Contact Details -
Free!!

Photo Album (up to 8 photos) -
Free!!

Privacy Features -
Free!!
About bhuvaneshwari, personality, goals, family & Partner preferences
,,
About Life Partner Preferences:
,,,
Basics & Lifestyle
Religious & Social Background
Education and Profession
Arts
Rs. 50,000 - 1,00,000
Astro Details
*** Details visible after registration
Location / Residence
Similar Profiles
Desired Partner Profile
Member has not added details on their partner preferences. Showing default preferences.
Basics & Lifestyle
4ft 4in - 132cm - 7ft - 213cm
Any
Religious & Social Background
Education & Career