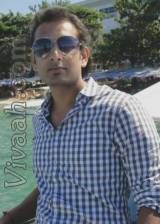 27 Yrs

5ft 11in - 180cm

Never Married

Self

Hindu

Jaiswal

Punjabi

Fair

Slim

Business Person

Masters in Management

India, Rajasthan

Jaipur
Vivaah.com Matrimonial Services are - 100%, Completely & Totally FREE!!

Contact Members -
Free!!

View Contact Details -
Free!!

Photo Album (up to 8 photos) -
Free!!

Privacy Features -
Free!!
About anir1986, personality, goals, family & Partner preferences
My Self Done My MBA in RISK Management from Adelaide University Australia & Business Management from XLRI Jamshedpur. Worked for 8 Month with GE CAPITAL in UK (Bristol) as Senior Risk Leader Then Move to India and currently engaged in Diamond Business
About Life Partner Preferences:
She should be smart in her words and thoughts
Basics & Lifestyle
27 Years
Occasionally Non-Veg
Religious & Social Background
Education and Profession
Management
Rs.10,00,001 and above
Astro Details
*** Details visible after registration
Location / Residence
Similar Profiles
Desired Partner Profile
Member has not added details on their partner preferences. Showing default preferences.
Basics & Lifestyle
4ft 4in - 132cm - 7ft - 213cm
Any
Religious & Social Background
Education & Career